Year 6
Tweets by @Y6_windmill_ce
6B CLASS EXHIBITION - 21st November 2018
"On Wednesday 21st November, class 6B presented their work to parents in an exhibition style production.
After lots of practice and preparation we enjoyed ourselves and so did the adults. All of us had a job such as Maths expert, Art expert, Science and other experts. We all took part and really helped the adults to understand the learning we have being doing.
My favourite part was talking to adults and teaching them Maths, I really enjoyed this opportunity".
By Lily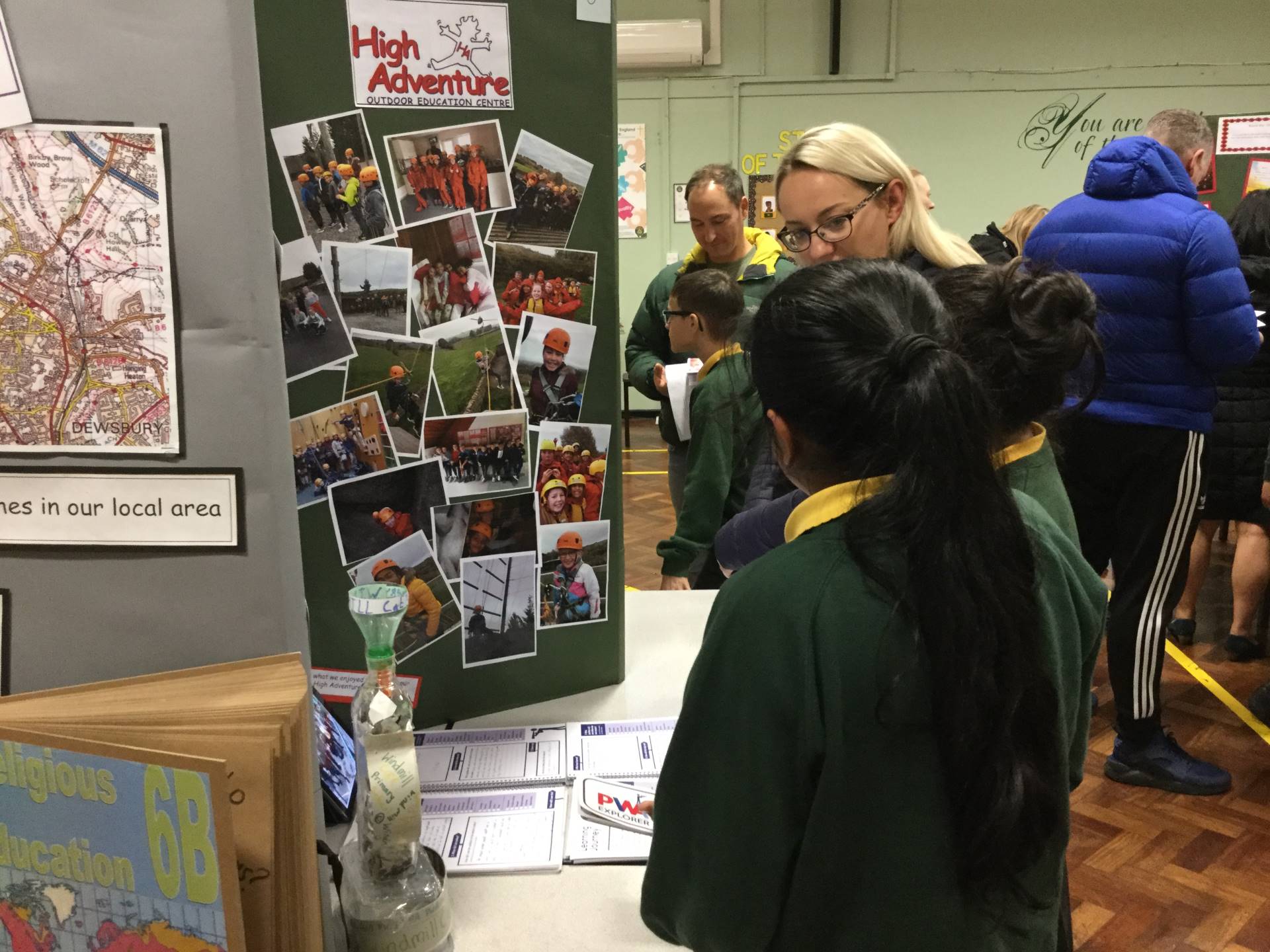 MACBETH - YOUNG SHAKESPEARE COMPANY - November 2018
"On Wednesday the 21st November, Year 6 watched a play about Macbeth. We all really enjoyed it and were even able to take part in it, playing different characters and attending the royal banquette.
My favourite part was when the three witches came on, it was so scary because they were wearing creepy masks and long droopy cloaks. We learnt lots from this show and we are looking forward to doing work about it".
By Lily & Olivia
IMG_0022 from Windmill C of E Primary on Vimeo.
YEAR 5 2017-2018
A VISIT FROM TRACY BRABIN - JULY 2018
This term Year 5's topic has been London. In English we wrote letters to our MP Tracy Brabin, inviting her into school.
Today, Tracy came to school to tell us about working in Parliament. We really enjoyed asking her questions about being an MP. She told us "If you work hard enough you will always achieve your goal in life."
Listening to Tracy was very inspiring and I loved this opportunity.
By Lily, 5DT
5DT PERFORMANCE OF ELMER - JULY 2018
At the start of the week, 5DT started learning the story of Elmer by David McKee. We put together actions and lyrics to present it to reception. We used African drums and many more instruments. The reception children really enjoyed it!
By Grace and Harry
5DT Elmer Performance from Windmill C of E Primary on Vimeo.
5W CLASS ASSEMBLY - 25TH APRIL
To start our topic work this term, 5W have been celebrating London's famous West End. It has made us even more excited to learn about this amazing city and inspired our class assembly! We learned a new song to perform to the rest of KS2 as well as practising an old favourite from Young Voices.
"The class assembly was AMAZING! I loved the finale when we sang You're In The Band because it was clear to see that our audience loved it too."
Taegan
"We learned a song from Joseph and his Technicolour Dreamcoat. This was first performed by school children in 1967 and was only 15 minutes long. But its success led to the play becoming one of the West End's most famous musicals!"
Rayhaan and William
YOUNG VOICES - 15TH JANUARY 2018
On Monday 15th January, our Y5 children took part in 'Young Voices' at Sheffield Arena. This is an amazing event that gives children the opportunity to form a gigantic choir with children from other schools and perform for a real audience in an arena. The children have been practising their singing and dance moves in preparation. This is the second year we have participated in Young Voices and I know our Y4 children are already looking forward to their turn next year! Thanks to staff and parents for your support for this event, it's a very long day but well worth it! Have a look at some of the children's reflections of the experience below:
I will always remember Young Voices, we rehearsed the songs and then when our parents arrived to watch all the lights went out and everyone turned on their Young Voices torches and it looked amazing.
Harry
Young Voices was one of the experiences in my life that I will never forget! All the hard work and practicing paid off, I went from not knowing any songs in September to knowing almost every word in every song by the time of the show. Preparing for the magical, marvellous moment was fabulous, seeing everybody singing together for the first time was fantastic.
Lidia
When I looked into the audience, all I could see was the dancing lights behind them. Then all of a sudden, everyone turned on their torches. It looked like stars twinkling in the night sky.
Kyla
NORTHERN BALLET WORKSHOP - 13TH DECEMBER
The Northern Ballet came into year 5 to teach us ballet and show us the techniques. We learnt jumps from 1st to 2nd position and how to do arabesque (balancing on one leg).
Two people came to look for people who have talent. The four people who got 'spotted' received golden tickets and three free lessons. It was so much fun, we would rate it a 10/10 and definitely recommend it.
By Lidia & Olivia
"We really enjoyed our afternoon at Windmill Primary and were blown away by the enthusiasm and talent in Year 5"
The Northern Ballet
CLASS 5DT ASSEMBLY - 11TH OCTOBER
Yesterday, 5DT presented their class assembly about their Topic work 'The Rainforest.'
They gave a fantastic performance with singing, dancing and lots of interesting facts. They gave everybody a chance to think about who, what or where is special and beautiful to them.
Where do you see beauty in the world?
5DT beautiful movie from Windmill C of E Primary on Vimeo.
TROPICAL WORLD 26TH SEPTEMBER
On the 26th September, Year 5 went on a school trip to Tropical World. In the morning we went to Roundhay woodlands, the river view was amazing. In the woods we did a leaf hunt where we had to identify different leaves. We then did another hunt with bugs!
Before we left for lunch we interviewed a tree. We found out you can discover how tall and old a beech tree is without chopping it down. To see how tall the tree was we had to put a metre stick against the trunk, walk back until our finger was the same size as the metre stick and then count up with our fingers.
We then had lunch and went inside Tropical World. In Tropical World we found the meerkats and butterflies most interesting. There were lots of things to explore and it was very very hot! We had a really fun trip!
By Lily & Grace, 5DT
Y5 Tropical World from Windmill C of E Primary on Vimeo.
YEAR 4 2016-17
SING OUT TO REACH OUT
4T have loved taking part in the 'Sing Out to Reach Out' project alongside Songsational this year. It has been great to come together to learn about each other and our wider community. Our first meeting took place at Howden Clough Community Centre where many of the children attended pre-school. Songsational were excellent hosts and the children were immediately immersed in music through lots of games and dancing. Year 4 were thrilled to be invited to join Songsational in singing at a 'Great Get Together' event at the community centre later in the year. For the second meet up, Windmill hosted Songsational at school where they helped the children present an assembly about the project to the rest of school. It has been a pleasure to enjoy music together and celebrate the diversity in our community.
"I can't wait to perform with Songsational. It has inspired me to learn even more songs!" Freddie
"I have loved practising our songs with Songsational. We have had lots of fun getting to know them." Joshua
"At first I was a bit nervous about meeting new people but I have realised we have lots in common." Tayla
"We're so lucky to have been paired with Windmill Primary School for the Sing Out To Reach Out project. It's been great fun getting to know the children and everyone at the school has been so welcoming. It's been an absolute pleasure sharing our love of music with them and seeing the children learning about communities". Songsational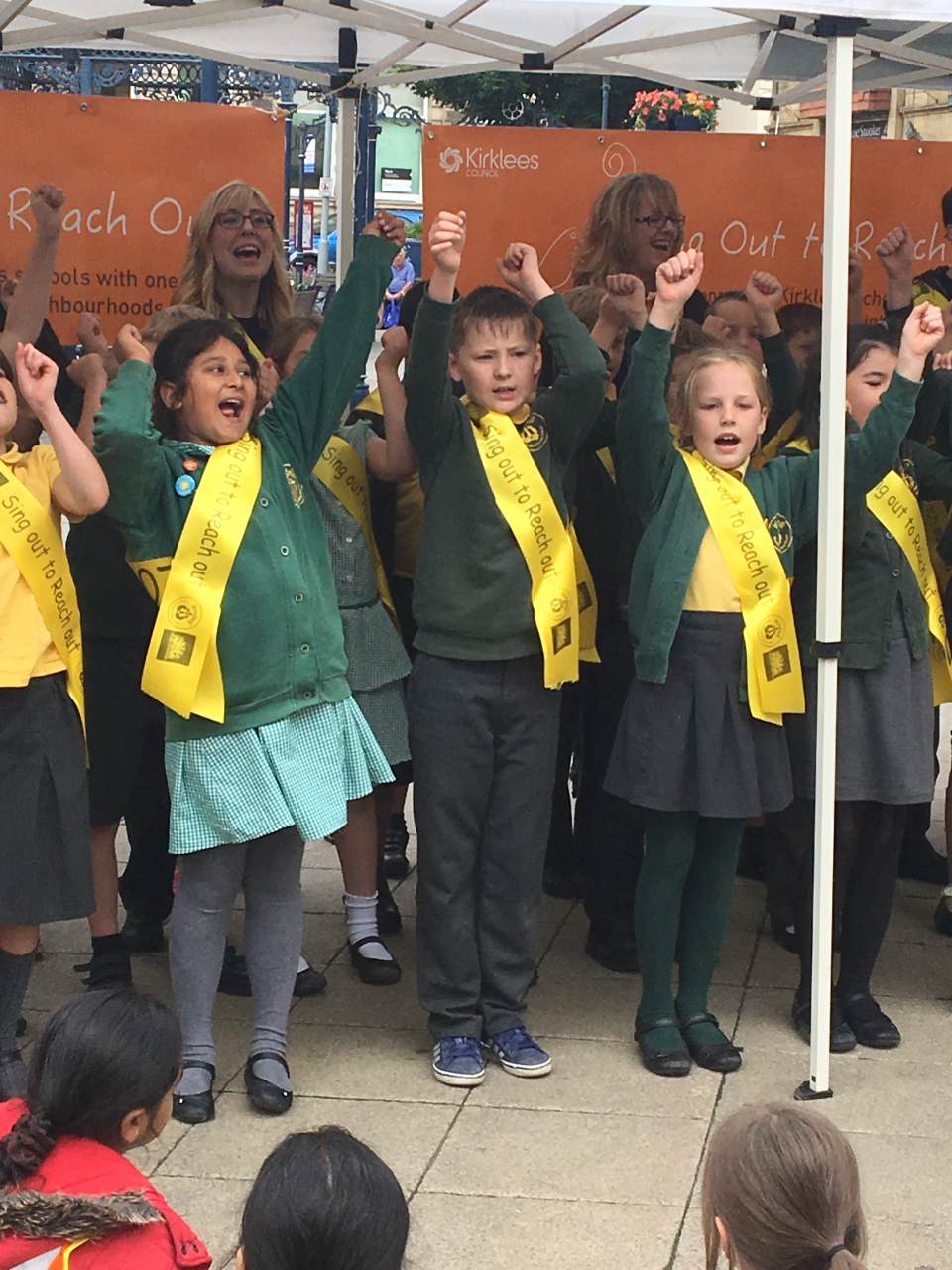 YEAR 4 MISSION ACTIVE - 22ND JUNE
My favourite part of Mission Active was when my friends and I played football because I had a really fun time. I enjoyed passing the ball to my team mates. I loved playing tennis with a balloon because we had to use different body parts to catch the it. I enjoyed making new friends and playing sports with them. Overall, I had a brilliant time.
By Saarah, class 4T
SONGSATIONAL & CLASS 4T - 23RD MAY
Class 4T have been working with a community group called Songsational. We performed in front of the whole school yesterday. We really enjoyed singing Miss Towler's choice of song 'The Best Day of My Life'. It was great fun! We are also going to Dewsbury Town Centre to sing and cheer up the shoppers very soon.
By Fatima, 4T
CLASS 4B POETRY VIDEOS
Class 4B worked in groups of 4 to perform Richard Brown's poem: The Spirit of Place (A poem for 4 voices). The poem is about an island in the middle of the sea where a horrifying creature is born. The poem is just the beginning of a horror story. Where will it end?
Year 4 Poetry Videos from Windmill C of E Primary on Vimeo.
SING UP 2017
On the 24th March, the whole school participated in Sing Up 2017. Each year group helped to spread a little singing around the world by performing their own song.
Year 4 were brilliant and sang 'Best Day Of My Life'. Have a listen to them sing by clicking on the year group photo below.
Year 4 Sing Up from Windmill C of E Primary on Vimeo.
4B CLASS ASSEMBLY
"On Wednesday 22nd March class 4B did an assembly for the whole school. We practiced for 3 or 4 days before and we all got to say something. We all said our parts loudly and slowly so the audience could hear. The hall was packed and at the end everybody clapped. I thought our class assembly was fantastic!"
By Lily, 4B
YEAR 4 ROMAN WORKSHOP
On the 13th March, Year 4 had some special visitors - Roman Tours UK, they presented to them the life of a Roman soldier in Britain.
"A Roman soldier came to visit our school. My favourite part of the day was when we learned the tactics which the Romans would use to invade. The Roman soldier told us that we would have to work together to win the battle. All the girls had shields to defend themselves because the boys had spears."
By Mishaal, class 4B
"The bit I enjoyed the most was when we went outside and the boys and girls went to battle! The girls had spears and the boys had shields. We had to get into the turtle formation to protect ourselves from the spears the girls were throwing at us!"
By Spencer, class 4T
"Romans didn't have privacy in the bathroom. They sat in rows next to each other, over a hole. They didn't have toilet paper, instead they had a sponge on a stick. I had to pretend to go to the toilet and use the sponge which was pretty funny but also quite horrible!"
By Julia, class 4B
"The Roman workshop was great. My favourite part was when we learned about Roman toilets! Some people thought it was disgusting but I thought it was hilarious!"
By Rebecca, class 4T
RomanY4 from Windmill C of E Primary on Vimeo.
ANTI-BULLYING WEEK
Class 4B wrote and performed a poem together for anti-bullying week, watch it below.
4B Anti-Bullying Poem from Windmill C of E Primary on Vimeo.
4T CLASS ASSEMBLY - 16TH NOVEMBER
On Wednesday this week, 4T performed their class assembly. They worked incredibly hard to prepare a script and learn a song to demonstrate all of their hard work so far this term. The end result was absolutely brilliant. Miss Towler, Mrs Etchells and Mr Cross were extremely proud of all of you. Well done!
"Our class assembly was all about how much we have learned about the city of Leeds as well as other cities around the world. My favourite part was at the end when we sang 'Marching on Together."
By Joshua
"The assembly was great fun. We have learned so much about cities this term and our trip to Leeds was really memorable."
By Anika
THE URBAN GLOW - 15TH NOVEMBER
Yesterday, Year 4 had a visit from Andy, an urban designer from the design company called 'The Urban Glow'.
'Today I learned that there used to be a statue of Queen Victoria outside the Town Hall because she opened the Town Hall. I also learned that there are lots of people that work to build a city and it takes a long time. The oldest street in Leeds is Briggate. I loved today, I learned lots of things from Andy the urban designer.'
By Lily, Class 4B
TRIP TO LEEDS - 2ND NOVEMBER
"Yesterday we went to Leeds City Centre, we met outside the Museum. First my group went inside the museum to look around and then have our lunch. After lunch we went into Millenium Square, they were all getting ready for the Christmas Market in two weeks. Soon after that we went into the Trinity shopping centre, there was a big metal horse hanging over the first floor. I also noticed that when too many people went on the bridge it slightly vibrated. Then we went inside the Corn Exchange to the basement. We had to draw a sketch of something we could see, I drew the clock. Finally we went into Victoria Quarter, it was very posh and some of it was made out of marble. My favourite bit was the museum."
By Harrison
YEAR 3 2015-2016
In Year 3, the children have been learning how to calculate the answer to division questions by using their knowledge of times tables and 'chunking' on a number line. They have also learned to 'prove' that an answer is correct by completed an inverse (or 'opposite') operation. Spencer explained to the class how he solved the question 92 divided by 4 and how he proved that his answer of 23 was correct by using the multiplication grid method to work out that 4 x 23 = 92.
Proving an answer is correct 3W from Windmill C of E Primary on Vimeo.
VISIT FROM THE RSPB
On Wednesday 8th June, Class 3W were treated to a morning with Catherine and Laura from the RSPB, who talked to us about their work before challenging us to find plants and wildlife that inhabit (and visit!) our school grounds. It was a fantastic opportunity to explore our school environment and look really closely at the birds, insects and other animals that can be found. We were even able to do a spot of pond-dipping, which uncovered a variety of weird and wonderful creatures!
Year 3 Trip to Manchester Museum
Year 3 enjoyed their visit to Manchester museum on Tuesday 3rd May. They were excited by the Egyptian artefacts. They marvelled at the mummy and delighted at the dinosaur bones around the museum. Some children even took selfies with Stan, the T-Rex!
The children took part in workshops where they worked together to help build a pyramid. They were archaeologists - examining Ancient Egyptian artefacts. In the museum, they were detectives finding artefacts to help Asru in the afterlife.
The children said:
'We would recommend Manchester Museum to others because there are lots of interesting things to see and do. We also learned lots of new information.'
'We would like to go back with our families because you get to see an actual mummy out of its coffin and there so many amazing things to look at.'
______________________________________________________________________
IN MARCH, OUR YEAR 3 CHILDREN HAD THE OPPORTUNITY TO SPEND AN EXCITING MORNING AT THE GIRLS' HIGH SCHOOL, WHERE WE PARTICIPATED IN SOME EGYPTIAN-THEMED ART ACTIVITIES. WE LEARNED HOW TO USE MODROC TO CREATE A 3D 'EYE OF HORUS', WE WROTE OUR NAMES IN HIEROGLYPHS THEN PAINTED THEM, AND WE DECORATED SOME PYRAMIDS WITH EGYPTIAN-STYLE PICTURES AND SYMBOLS. IT WAS A FANTASTIC EXPERIENCE, WHERE WE LEARNED EVEN MORE ABOUT ANCIENT EGYPT, AS WELL AS SOME NEW (AND MESSY!) SKILLS.
Egyptian Art at BGHS from Windmill C of E Primary on Vimeo.
IN FEBRUARY, CLASS 3W HAVE BEEN LEARNING ABOUT THE LAND USE AROUND OUR LOCAL AREA. WE STUDIED MAPS AND IDENTIFIED ROADS, HOUSES, FARMLAND, CHURCHES ETC. WE THEN COMPARED HOW THE LAND IS USED NOW TO HOW IT WAS USED 100 YEARS AGO. THE CHILDREN LOVED LOOKING AT THE 100-YEAR OLD MAP AND WERE AMAZED TO FIND OUT THAT OUR WINDMILL WAS ON THE MAP, HOWEVER OUR SCHOOL WAS NOT!
SING UP 4TH FEB 2016
YEAR 3 CELEBRATED SING UP DAY AND SANG IN FRONT OF THE WHOLE SCHOOL ON ILKLA MOOR BAHT 'AT. PLEASE CLICK ON THE SOUND FILE BELOW TO LISTEN TO THEM - WELL DONE YEAR 3!
TRIP TO HEPWORTH GALLERY - 02.02.16
Trip to Hepworth Gallery from Windmill C of E Primary on Vimeo.
This half term, Year 3 have been studying the Yorkshire artist Barbara Hepworth. To enhance this learning, we visited the Hepworth, in Wakefield last week. We spent the first half of the morning with an artist, then we participated in a workshop and created some rather interesting sculptures of our own! We also learned to hone our observational skills during an activity where we had 30 seconds to look closely at an object, then draw it...with our eyes closed!
During the afternoon, we spent time in the galleries where we did some absolutely fantastic observational drawings of some of Hepworth's sculptures and completed a quiz where we had to find information our about some of the paintings and sculptures.
To encourage the children to focus during their drawings, we ran a competition to make the most accurate and detailed observational drawing of one of Hepworth's sculptures. It was such a difficult job to judge this as every single child, without exception, completed some amazing pieces of art. However, after much deliberation, Mr Scargill chose Evie's drawing of 'Archaean' and Joseph's drawing of 'The Winged Figure.' They have each won a Hepworth sketch book and pencil. Well done Evie and Joseph!
Saarah wrote the following recount in her homework book
On Tuesday 2nd of February Year 3 went to Hepworth Gallery to find out about Barbara Hepworth. First we met Vinny, he asked us questions about Barbara Hepworth, he was really impressed how much we knew! Next came the fun part, we got to make our own sculptures using paper clips, paper, paper fasteners and lots more. I made a windmill, it looked realistic. After that we sketched lots of sculptures including the 'Winged Figure'. The teachers are going to judge the best one! Later in the day we took part in a sculpture hunt. My favourite part of the day was making my sculpture.
IN YEAR 3, WE HAVE BEEN READING A STORY CALLED 'MOUSE BIRD SNAKE WOLF'

WHERE THE GODS HAVE LEFT BEHIND EMPTY SPACES, SO THREE CHILDREN CREATE

NEW CREATURES TO FILL THEM. WE HAD A CLASS DEBATE ABOUT WHETHER THE

CHILDREN'S ACTIONS ARE RIGHT OR WRONG. WE THEN LEARNED WHAT THE FEATURES

OF A BALANCED DISCUSSION ARE BEFORE WRITING OUR OWN. JACK'S DISCUSSION

MET ALL THE CRITERIA AND HE MET HIS PERSONAL TARGET. HE EVEN BEGAN JOINING

HIS HANDWRITING!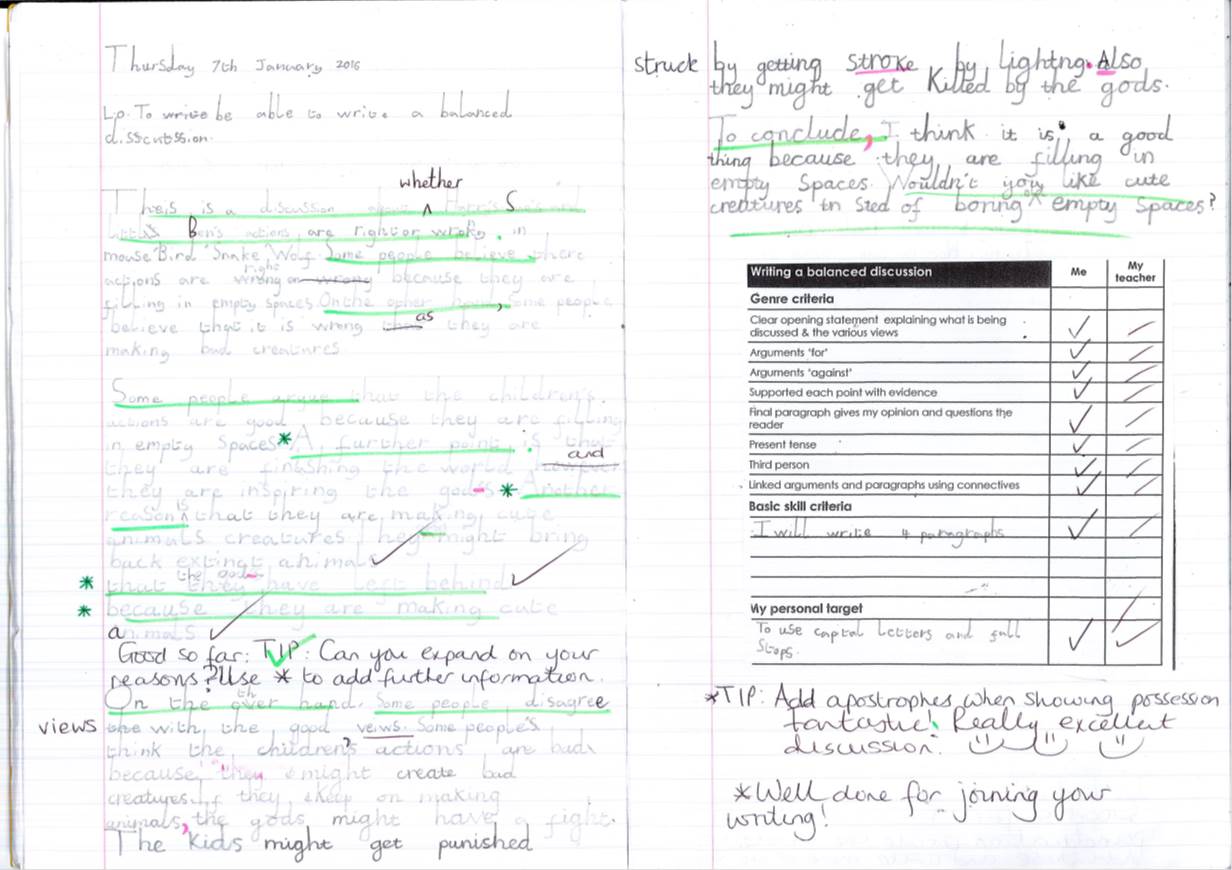 Quote from Jack:
"I loved having a class argument about what the children were doing. It
helped me write about everyone's good and bad views. I learned how to
use 'some people argue' and 'on the other hand' to explain people's
views. I am very proud of my work!"
Jack, Year 3 from Windmill C of E Primary on Vimeo.
A lot has been going on in year three at the start of this new school year. Children have been learning about road safety with West Yorkshire Police. We went outside to find out more…
During Road Safety, there was a series of mixed emotions throughout the class.
"I thought it was fun!" Fletcher
"The green code is; Look left, look right, left again, right again." Millie and Jake
"I thought it was scary and unsafe at first, but after our first go I felt totally safe!" Tayla
"We were a bit nervous but excited at the same time!" Kyla & Tye
"It was scary because I had never crossed a road on my own before!" Abi
During literacy skills in Mrs Wilson's class, different groups of children complete different activities each day. One group were working on a grammar activity; "We are correcting incorrect sentences so they make sense," said Jake. Another group were reading a comic. "We are reading Ug. It's about the stone age." Said Callum. The other two groups were also working on adding 'ed' and writing questions for the fictional character; Ug.


Contributed by Molly and Saarah, Media club.

YEAR 2 2014-15
Royal Armouries Trip
Last Thursday, 4th June, Year 2 visited the Royal Armouries as part of their Knights and Castles topic. It was a great day that included a workshop where the children made puppets and learned about the life of a knight, as well as exploring the museum and learning many interesting facts.
Science Investigations.
This week Year 2 have been exploring the grounds to investigate the many different types of plant that can be found around school, while thinking about how plants are useful to us.
Manchester Airport Visitor Centre Trip
Year 2 had a fantastic trip to the Runway Visitor Centre at Manchester Airport on Friday 20th March. Highlights included seeing Concorde and watching many planes land and take off. We also tried our hand at being pilots, air traffic controllers and other important jobs.
Here are a few photos of some of the exciting activities we took part in.
World Book Day
Year 2 greatly enjoyed dressing up as their favourite characters and reading from their favourite books.
13th January 2015
Year 2 have been investigating how different materials can be the same length and what 50cm looks like. We found out it is half a metre!
Armley Mills Musum Visit
In December Year 2 visited Armley Mills Industrial Museum to learn more about the Victorians and how they celebrated christmas. We enjoyed many activities including rag-rugging, parlour games and making Victorian style christmas cards, as well as exploring the museum itself.