Year 5
London Residential 2022 Movie
Year 5 2020 - 2021
Belonging Dance
Year 5 Dance
This half term year 5 have been learning a cool dance with Mrs Hartley in our PE lessons. We have been working very hard. The dance was about belonging. My favourite move was the cowboy side-steps and Ebony's favourite move was when she did leg kicks. The whole of Year 5 performed the dance for an appreciative audience and we loved working together on the dance by Aimee and Ebony.
YEAR 5 2019-2020
Young voices - 8 Jan 2020
Our thoughts about Young Voices 2020
'We had been practising since September 2019 – waiting 4 months for our moment to come'. Aamir
'In September 2019, Year 5 started practising for Young Voices 2020. As soon as we began, I knew it would be epic. It was hard work but worth it in the end.' Elliot
'The concert last night was phenomenal and epic. It was a once in a lifetime experience.' Finlay
'When our parents arrived and then danced, it made me want to jump and it made me so happy.' Isabel
'After every song it went pitch black in the arena and everybody was cheering. I felt very proud of myself.' Maisie
'My favourite part was when all the lights went out and the show began.' Lillie- May
Personal recommendation for next year's Y5.
The best thing about practising is learning the songs and the dazzling dance moves. After all your hard work, singing and dancing in your classroom, it finally pays off when you get to perform at Sheffield Arena in the Young Voices concert.
There are some dancers named Urban Strides and they are street dancers. They have performed with Beyonce and Justin Bieber. They perform with the choir on the night of the concert. They are brilliant.
All through the day, you will have fun and take part in an awesome performance – along with 5000 other children. It is a once in a lifetime opportunity so don't pass it up! Layla.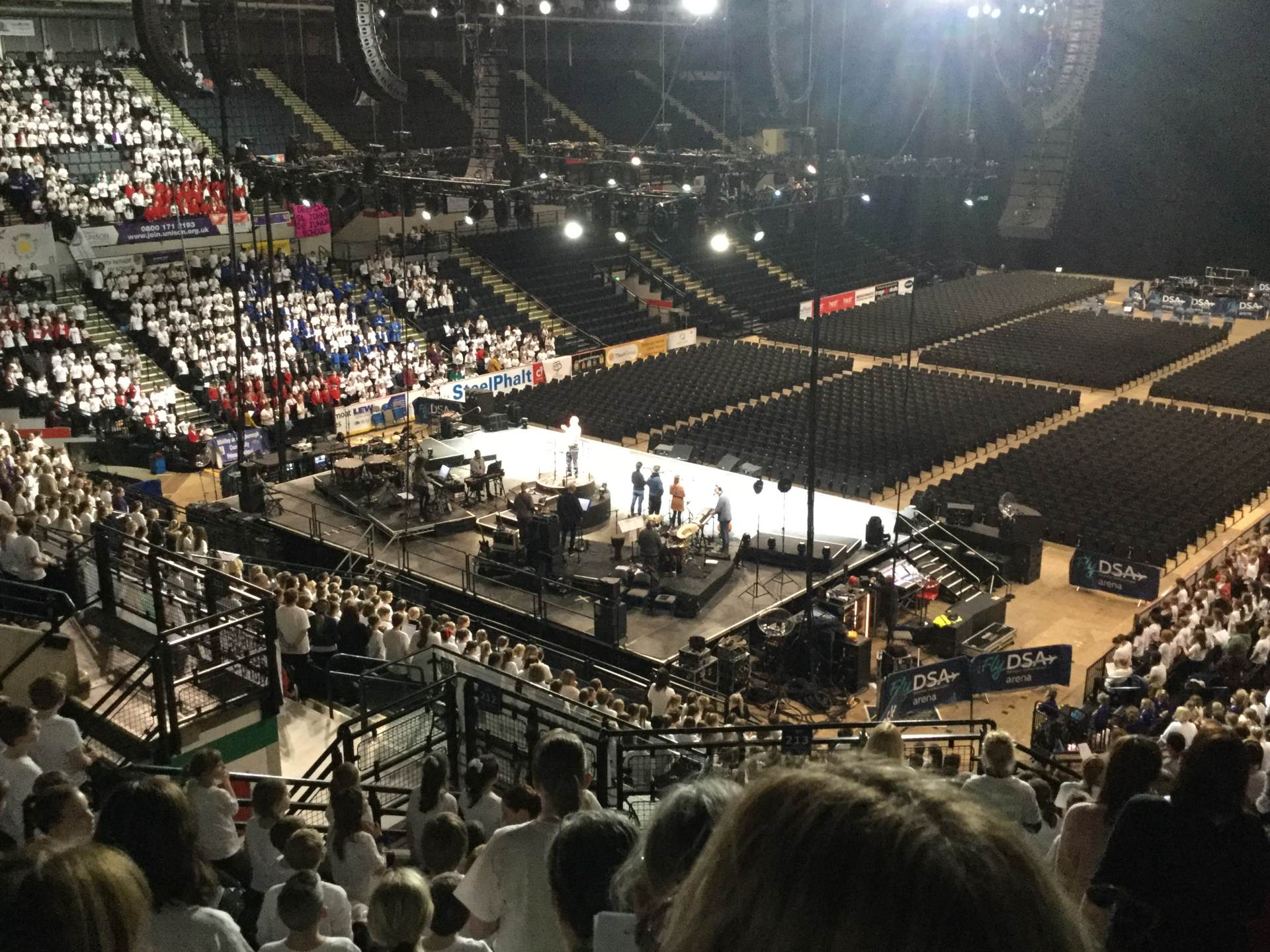 YEAR 3 2017-2018
3W ASSEMBLY - 22ND MARCH
Our assembly was about natural disasters. We performed a dance by Northern Ballet reenacting a volcano erupting. We all were involved in writing a dramatic story line about the destruction of Pompeii. My favourite bit was when we sang 'Walking on lava'. We also did a scientific experiment and played our ukuleles. It's amazing what we did in 25 minutes!
By Annabelle, 3W
YEAR 3 TRIP TO MAGNA - 13TH MARCH
When we arrived at Magna, we first went to the Air Pavilion and tried the giant cannons and the giant fan. Then we went to the Water Pavilion and some of us got a tiny bit wet but we had lots of fun! After that we went to the Big Melt and saw how workers made and melted steel. After the Big Melt, we went into the Fire Pavilion where we watched a fire tornado and sent electricity through wires. Before we came back to school, we had chance to play on the playground too.
By Noah, 3R
Year 3 MAGNA from Windmill C of E Primary on Vimeo.
Y3 PRODUCTION - A MIDWIFE CRISIS - DECEMBER 2017
Well done Year 3 on two great performances of 'A Midwife Crisis' yesterday, It was lovely to see such talent. We had lots of very entertained and proud family members in the audience. Super job.
ROAD SAFETY TRAINING
Year 3 had the opportunity of pedestrian training with Kirklees Council this week. They talked about the Green Cross Code and how to cross the roads safely using Stop! Look! Listen! Think! in the classrooms.
Each class then went out and practised crossing the roads outside of school.
"This morning, Year 3 had visitors in to show us how to cross the road safely. You have to stop before the pavement edge and start to look right then left. Then we look both ways, listening all the time. "
Kian, 3W
RYEDALE FOLK MUSEUM - 4TH OCTOBER
Yesterday Year 3 went on a school trip to Ryedale Folk Museum. We were feeling very excited. We had a very interesting talk in the Round house about the Iron Age. We had a weaving workshop and had a go on an Iron Age loom. Then we made clay pinch pots and explored the rest of Ryedale Folk Museum.
By Freddie, 3R
Year 3 Ryedale from Windmill C of E Primary on Vimeo.
YEAR 2 2016-2017
CLASS 2P ASSEMBLY - 12TH JULY
'Our class assembly was about Tanzania because we have been learning about Tanzania in our topic lessons recently. We welcomed the audience in Tanzanian and sung Jambo Bwana. We pretended to be in an airplane and we rewrote an African story. The funniest line was when Bethan said "I'm starving where's the nearest McDonalds?" We also sang Those Magnificent Men in their Flying Machines.'
By Noah, 2P
Y2 TRIP TO YWP - 3RD JULY
'On Monday we went to the Yorkshire Wildlife Park. We spent lots of time looking at the African animals because part of our topic is learning about Africa. I really enjoyed looking at the meerkats, they dashed around and were hard to spot.'
By Elliott, 2P
'When we went on our trip we got to touch some African animals! I held a giant snail in my hand and it left black slime all over it! We also got to hold an ostrich egg but we had to be very careful! My favourite animals were the giraffes.'
By Eden, 2W
Year 2 Yorkshire Wildlife Park from Windmill C of E Primary on Vimeo.
SING UP 2017
On the 24th March, the whole school participated in Sing Up 2017. Each year group helped to spread a little singing around the world by performing their own song.
Year 2 were brilliant and sang 'Those Magnificent Men'. Have a listen to them sing by clicking on the year group photo below.
Year 2 Sing Up from Windmill C of E Primary on Vimeo.
TRIP TO THE NATIONAL RAILWAY MUSEUM - FRIDAY 27TH JANUARY
"On Friday we went on a school trip to The National Railway Museum in York, to learn about big, fast trains. We learnt about George Stephenson and his rocket, the rocket was yellow and it was amazing. We saw a turntable and went on a mini train ride, and then we watched a Punch and Judy show."
Emily & Bethany
"My favourite part of the day was the Punch and Judy show because it was so funny and weird."
William
"My favourite part was the mini train ride because it had old trains around it."
Lola
CLASS 2W ASSEMBLY - 23RD NOVEMBER
"On the 23rd November we performed our class assembly about caring for the world and the environment. Annabelle said the prayer, at first she was feeling shy but when she said it she felt happy. The bit we enjoyed most was singing the song 'We Recycle'. Isabelle said we always put our litter in the bin when we have used it".
By Annabelle and Isabell
"We enjoyed our class assembly, we felt excited when we said our lines. Our class assembly was about Recycling and how it helps our world".
By Jack and Ryan
YEAR 1 2015-16
PICNIC

& FAMILY RACES
On Wednesday 13th July, the children enjoyed a lovely afternoon of family races and a little picnic to mark the end of Year 1.
"MY GRANDMA CAME AND WE LOVED IT!"

BETHANY, 1MH
"THE WHEELBARROW RACE WAS SO FUNNY"

DANTE, 1SP
"I LOVED RACING WITH MY LITTLE SISTER IN HER PRAM" HOLLY 1MH
Year 1 Family Picnic & Race from Windmill C of E Primary on Vimeo.
STORY SWAP
On Thursday 26th May, Year 1 visited our Year 6 children to spend an afternoon together reading and swapping stories. The children really enjoyed this time together, here a few photos from the afternoon and what they had to say about it.
I really loved this afternoon because when Kian read to me he did it so well. I could understand every word he said and it was a really good story.
Maddie, Y6
I really enjoyed hearing Ryan's story. Also I loved reading to him as well as eating biscuits! Ryan's story had amazing adverbs.
Charlotte, Y6
When I read my book I felt very proud of my self. I love making stories and reading to it to Year 6. I love writing. I love English.
Ryan, Y1
My favourite part of today was when Izzy and Sam read to me.
Holly, Y1
Story Swap from Windmill C of E Primary on Vimeo.
MOBILE PLANETARIUM
On the 12th April, Stardome The Mobile Planetarium visited Year 1. Here is what Alex had to say about it:
First we took our shoes off. Next we crawled through the tunnel and it went dark when we sat down. After that they put stars in it and then they made them move. Eventually they quizzed us about planets. Finally we crawled out and put our shoes on.
1HP CLASS ASSEMBLY
On Wednesday 9th March it was the turn of 1HP to perform their class assembly.
Every child read something about the queen and buses. Every child in 1HP went to see an old fashioned bus, the doors were at the back behind the steps. Our assembly was about the queen. Finlay
Our assembly was about Queen Elizabeth and buses. The Queen lives in London, she is very important. Alex
I had to say we have been learning about buses and the royal family. Oliver
Our assembly was really good and I had to say double decker. I had to hold a picture of a double decker. My mum and grandma watched me. Bethany
SING UP 4TH FEB 2016
Year 1 celebrated Sing Up Day and sang in front of the whole school our national anthem God Save The Queen. Please click on the sound file below to listen to them - well done Year 1.
YEAR 1 BUS VISIT
On Thursday 22nd January Year 1 had a visit from the Dewsbury Bus Museum who brought a bus for the children to explore. The bus was 65 years old and used to drive through Pontefract to Leeds. The children enjoyed learning about the features of the bus; where the engine was, how many seat there were and how many wheels the bus has. It was a great experience for the children and will be a great help in their design and technology project making bus models.
4th October 2015
WE HAVE BEEN LEARNING ABOUT THE WORK OFANDREW GOLDSWORTHY. HERE ARE SOME PICTURES ON OUR WORK ON WALLS AND WAVES
.
ANDREW GOLDSWORTHY LIKES TO WORK WITH NATURAL MATERIALS SO WE CREATED WAVES USING STICKS.

WE ENJOYED USING THE BEAUTIFUL COLOURS OF THE AUTUMN LEAVES.

TOGETHER WE EXPLORED CREATING THE WAVES FOUND IN RIVERS WITH OUR L
EAVES.

WE USED WHAT WE HAD LEARNT TO WORK IN SMALL GROUPS TO CREATE OUR OWN GROUP PIECES.

WE HAD GREAT FUN BEING OUTSIDE AND WORKING WITH OUR FRIENDS.

SEPTEMBER 2015
WE HAVE HAD AN INTERESTING START TO THE YEAR. WE HAVE LEARNT A GREAT DEAL AND HAD A LOT OF FUN ALONG THE WAY. HERE ARE A FEW PICTURES OF OR WORK IN SEPTEMBER.

WE HAVE BEEN LEARNING TO LOG ONTO OUR LAPTOPS AND SAVE OUR WORK.

WE ENJOYED CREATING PICTURES OF POLAR ANIMALS.

WE HAVE BEEN LEARNING ABOUT HOW MAPS ARE CREATED USING BIRD'S EYE VIEW AND LABELLED MAPS OF OUR CLASSROOM.

WE HAVE BEEN LEARNING ABOUT ANIMALS FROM THE NORTH POLE AND AFRICA AS WELL AS THINKING OF WAYS TO GROUP THEM.

WE HAVE BEEN COMPARING AMOUNTS USING THE SYMBOLS FOR GREATER THAN, LESS THAN AND EQUAL TO.

We even found time for a little nature spotting.
We even went on safari!
I wonder what adventures await in October!
In Year 1, children have been learning lots of interesting things! Here are some photographs.
The children are having so much fun!
CONTRIBUTED BY TOBY AND HARRY, MEDIA CLUB
RECEPTION 2014-15
23rd June 2015
On Tuesday 23rd June we went on our trip to 'Sundown Adventureland'. We all had a fantastic time and had lots of fun! Throughout the day we had plenty of time to explore and all managed to go on lots of the different rides. The weather stayed fine and dry for us, although many of us ended up very wet on the 'Boozy Barrels' water ride. We have enjoyed discussing our trip back in school, writing about our favourite ride/part of Sundown and together in our classes we have written a recount of the day.
We all loved the tractor ride.
Then there was the pig ride. This was very fast and bumpy!
Here is the train ride.
It wasn't just the children that had lots of fun. The teachers were just as excited!
Hoods up to try and avoid the spray jets on the water ride.
But lots of us ended up wet!
After a busy fun-filled day we were all very tired. It was a much quieter coach journey back than it was going!
8th June 2015
One of our topics in this final half term is 'mini-beasts'. We are currently focussing on the storybook 'The Very Hungry Caterpillar' and we have our very own caterpillars in our investigation area which we will observe turn into butterflies (hopefully!) Lots of us have started to go on mini-beast hunts outside and then we are trying to find out lots of information about the mini-beasts we find.
Some of us helped to build a mini-beast hotel.
We are painting and creating lots of fantastic pictures of different mini-beasts.
Here is a ladybird
Here is a symmetrical butterfly!
In maths we have been focussing on number bonds to 10. We have used numicon to help us make the different number bonds to 10 by seeing which two pieces fit together and then checking by placing them on top of the number 10 piece.
Some of us then moved onto making number bonds to 20! We wrote number sentences to show all the different number bonds to 10 and 20.
11th May 2015
Our topic this half term is 'Journeys of the Imagination'. We have looked closely at storybooks about different journeys such as The Journey Home from Grandpa's, The Train Ride and we are currently reading We're going on a Bear Hunt. We have done lots of fun activities and produced some fantastic work based on our topic. In Reception we have all been thinking about special journeys we have been on and discussing these together.
Below are some examples of our recent writing. We are all trying really hard to write super sentences. We looked at speech bubbles and postcards and then had a go at writing our own!
We made our very own train out of our junk modelling just like the one in the story The Train Ride. We also painted one for our outdoor area and we did lots of outdoor role play pretending to go on train rides.
We used our train set and animals to re-tell the Train Ride story.
In maths we found out how the teachers travel to school and recorded our findings in a tally chart. We then used our tally charts to make a pictogram! We have also been looking at time and thinking about the different times trains arrive and depart from train stations. We have been problem solving with train times!
17th March 2015
Reception went on a school trip to Cannon Hall Farm. We saw lots of different animals such as pigs, piglets, sheep, goats, cows, rabbits and guinea pigs. Some of the baby goats and piglets we saw were only a day old! We got the chance to feed and stroke some of the animals. During a tour of the farm, we learnt about what jobs are carried out on a farm and how to care for all the animals. In the afternoon we had lots of fun playing in the outdoor playground. We had a fantastic day and were praised by Cannon Hall staff for our super listening and behaviour!
5th March 2015
We had lots of fun on World Book Day in Reception! We came to school dressed up as our favourite book characters and shared lots of our own storybooks during the day. A special visitor came and shared a storybook about 'Dinosaurs' with us, which was very exciting. Throughout the day we did lots of book related activities and some of us wrote our own storybooks. Below are some pictures of our costumes and books.
26th February 2015
We have kick started our 'Bugs, Plants and Animals' topic this week. We have our very own chicks to look after. The children have been monitoring the eggs as they hatched and have begun to learn about how to care for the chicks and the life cycle of hens. The children have produced some wonderful writing about the chicks and will continue to record their findings as they grow. We will be naming the chicks on Monday. Thank you very much for all of your suggestions!
Here are some examples of their lovely work.
19th January 2015
Following on from our Frozen theme, we have been thinking about our own super powers and writing about these using our understanding of phonics from our Read, Write, Inc sessions.
16th January 2015
Our children had a wonderful time immersing themselves in the Frozen theme this week. The theme was used as a stimulus in lots of different areas of the Reception unit - look at some of the fabulous things they did and their amazing writing by watching the video below.
8th October 2014
Children in reception have started learning how to read using our new phonics programme, 'Read Write Inc.'
Have a look at the videos below to see how well they are doing!
Videos of our children learning how to read using 'Read Write Inc'
The first Video shows you how to make the sound that some letters make on their own.
This sound is called a phoneme.'
The way we write the phoneme is called a 'grapheme.' Some phonemes have more than one grapheme, for example, the sound /ee/ can be written with the letters 'ea' as in leaf or 'ee' as in sheep. The sound the letter makes in the word is the phoneme, the way it is written is the grapheme.....
....this can get very confusing ! Read Write Inc makes sense of this and is an easy and engaging way for children to learn how to read our very challenging language.
phonemes 2 from Windmill C of E Primary on Vimeo.>
The second video shows you how children learn to write each letter.
Once children have leared the letter sound they are ready to write it!
's' - Slither down the snake
'm' Maisy mountain mountain
'a' around the apple and down the leaf
'd' down the dinosaur's bottom, up its neck and down its feet
'n' Down Nobby, over his net
Click here to see the phrases children use to help them write the rest of the letters.
When children know the sounds in a word they are ready to sound it out! We call this 'Fred talk.'